Cloud Based Data Erasure
Our ITAD services include data sanitization and destruction, refurbishment and remarketing, asset transportation, and status reporting.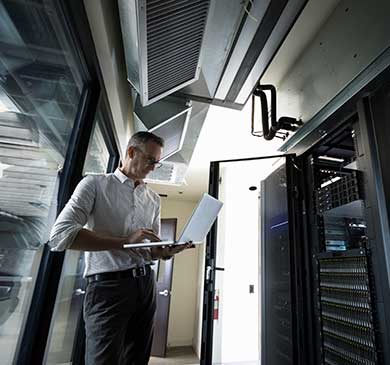 Trust is earned. Reduce risk with data security when and where you need it.
As the experts in data sanitization, destruction, and protection, Dynamic Lifecycle Innovations provides industry-leading technologies and maintains a complete chain of custody to ensure your sensitive data is protected from a data breach. Our customers can further reduce risk and improve the chain of custody within their IT asset disposition (ITAD) processes with XERO, Dynamic's cloud-based data erasure solution.
XERO allows you to virtually eliminate the security risks associated with transporting your end-of-life IT assets. The software runs via a USB flash drive on the client side, ensuring that all assets containing data are erased and certified before pick-up, protecting you from potential data breach when your equipment is in transit. The XERO cloud-based data erasure solution can be scaled to any size organization, and only requires a Wi-Fi connection to communicate with our hosted server.
For global organizations, XERO provides capabilities for in-house data erasure, further reducing risk and potentially significant costs associated with vendors performing on-site wiping or shredding in hard-to-reach geographies. The software also provides real-time reporting and certificates of data destruction per device for your internal audits and overall IT asset management program requirements.


AFFORDABLE DATA DESTRUCTION ANYTIME, ANYWHERE.
Dynamic values the security of your data and your brand above all else. View our demo video to see for yourself how XERO protects both by:
Improving risk mitigation and chain of custody within your ITAD processes
Providing affordable data destruction anywhere there is Wi-Fi across the globe
Helping ensure audit success with real-time reporting of data destruction records
Scaling to meet the specific needs of any size organization
Ready to take the next step? Click here to request your XERO free trial.