Electronics Recycling
Our e-recycling division processes electronic equipment and components for refurbishment and resale or end-of-life recycling.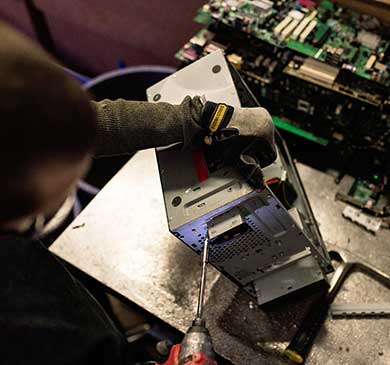 Your Recycled Electronics—And the Environment—Are Safe With Us
From comprehensive data sanitization and device shredding to the complete demanufacture and dismantlement of non-reusable assets, we handle every step in the e-recycling process so our customers can be certain the job will be done thoroughly and correctly. Our full-scale refurbishing and disassembly operations—combined with our meticulous recycling practices and expertise in the complexities of regulatory compliance—ensure both internal and external standards for quality, security, and sustainability are upheld.
Dynamic Lifecycle Innovations is dedicated to comprehensive, secure, and environmentally friendly electronics and materials recycling practices. Any electronics or materials that come through our doors are subject to our strict material-tracking and security protocols, and all components are reused or recycled to the fullest extent possible.
Reuse, Recover, Recycle: The E-Recycling Hierarchy
The First Phase: Reuse
In phase one, we visually inspect all equipment and components to determine its path. Any reusable items are sent to our recovery divisions for data sanitization, testing and/or refurbishment, and resale. The remarketable materials then enter our global sales network for reuse in full compliance with industry certifications, regulatory standards, and data security requirements.
The Second Phase: Recovery
If equipment or components do not pass inspection and are deemed un-remarketable, they're sent into the recovery phase. Recovery processing includes data sanitization, demanufacturing or destruction, and dismantling so that individual components can be harvested for reuse or remanufacture.
The Third Phase: Recycling
Those materials deemed not suitable for any kind of reuse or resale are sent into the recycling phase. After being sanitized to the fullest extent, materials are completely demanufactured, dismantled, and separated into metals, glasses, and plastics so they can be used to make new products.
Security-Driven Processes
Our security-first recycling processes are designed to eliminate any potential security risks so our customers can be certain their data is safe from any potential harm. When equipment arrives, it is immediately weighed, inventoried, and assigned a serial number so we can track it throughout its lifecycle.
If equipment being sent into end-of-life processing has a data-storing device—such as a hard drive, hard disk, operating system, or memory card—our personnel shred and destroy it to the fullest extent. If equipment is deemed suitable for reuse, data-storing devices are sanitized with our proprietary wiping and overwriting software, which makes data recovery impossible. All devices and assets are sanitized according to NIST 800-88 and the Department of Defense 5220-22-M standards.
Ecologically Sustainable Practices
To ensure we're complying with all local, state, and federal environmental regulations and doing everything we can to protect the environment from e-waste and pollution, we have a number of safeguards in place, including:
Initiating facility and process audits by the WDNR and other agencies
Working only with OECD-certified countries
Performing audits of any vendors who handle hazardous materials
Employing a strict a no-landfill policy
Maintaining numerous industry certifications for environmentally safe practices