REAL-TIME REPORTING FOR INSTANT INSIGHTS WHENEVER YOU NEED THEM
To help each of our clients meet their unique reporting needs, Dynamic Lifecycle Innovations offers the flexibility of an online customer portal for tracking assets in real time, submitting work orders, and accessing other account information 24/7.
Dynamic's customer portal provides complete transparency and responsiveness throughout our processes. With round-the-clock safe and secure access to your account information, you'll have peace of mind that the job is done right and confidence that Dynamic can handle all of your electronics and materials lifecycle needs.
Account data available through the customer portal includes:
Dashboard: See a quick overview of your account including total pounds of electronics recycled, number of orders scheduled, system users, recent order tracking, and Dynamic contact information
Order Scheduling: Schedule an order online quickly and easily, providing your contact information, pickup address, location details, number of pallets, and any special order notes
Recycling Orders: View a summary of every order in progress or completed and download documentation including settlement reports, settlement summaries, certificates of recycling, accounts payable invoices, accounts receivable credit memos, and bills of lading
Inventory: Get a high-level summary of the types of materials and units sent to Dynamic
Asset Vision: View and download a detailed list of all serialized assets tracked by Dynamic, searching by location sent from, serial number, model, category, order number, PO number, or disposition status
File Service: Upload current contracts, SOWs, vendor forms, and other documents into the customer portal, providing access to all users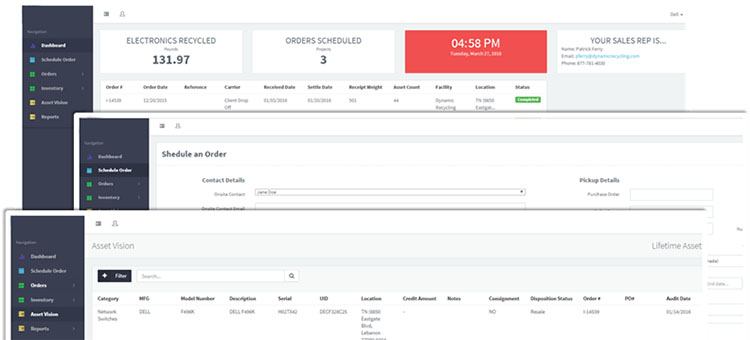 You can also access your critical reporting information 24/7, including:
Settlement Report: See a line item breakdown of commodities sent per order, including order number, PO number, pickup and settlement dates, ship to/ship from, received items, service items, and total charge/credits
Settlement Summary: Get a quick view of your settlement information with this summarized version of the Settlement Report
Certificate of Recycling: Produce a certificate showing a summary of total weight per commodity recycled on a specific order, including key details such as date of delivery, order number, PO number, invoice number, bill of lading number, ship to/ship from, order summary, and a list of assets (if applicable)
Accounts Payable/Receivable Invoice: Access your invoice or credit memo with a summary of commodities sent, pricing breakout, and other key information including customer details, invoice number/date, due date, terms, warehouse, remit/bill/ship to, purchase/sales order number, sales representative, and order date/number
Bill of Lading: View the pickup details for a specific order
Asset List: See a list of sent and tracked serialized assets broken down by location, serial number, model, category, order/PO number, and status
See for yourself how Dynamic provides instant account insights, and real-time tracking and shipping information through our online customer portal. 
Don't have a login or need assistance? Please contact your Dynamic Lifecycle Innovations account manager or email us at info@thinkdynamic.com.