Innovate. Create. Thrive.
EXPLORE WHAT MAKES US DYNAMIC!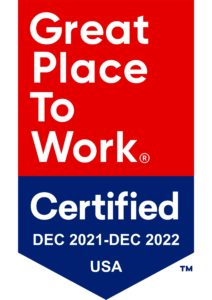 Our mission is to improve the world through reuse and recycling by empowering our team members to better themselves, their families, & others. Dynamic is honored to have been named a "Great Workplace" by Great Place to Work. Our team members are our greatest asset, and we're committed to providing an exceptional environment for the amazing work they do every day. Our team's focus on our six core values has proven to create a culture that is instrumental to our success and is truly what makes Dynamic a great place to work.
Core Values – Our guiding principles and foundation for success!
At Dynamic, our core values are not just a poster hanging in every room. They are the internal beacon that guides us toward making the right decisions and delivering on our promise of excellence. Dynamic team members have the opportunity to nominate their peers for exemplifying our core values. We take time to celebrate those team members and their stories on a monthly basis to maintain our focus on what matters most— our people.
Integrity

Integrity is doing the right thing when no one is looking. We can sleep at night knowing our character speaks for itself.
Integrity: Nathan

Nathan found cash in a product that he was processing and had the integrity to turn it into his supervisor instead of tucking it in his pocket.
Humility

Have the inner confidence to put others in front of oneself.
Humility: Alex & Dao

Alex and Dao put their teammates first by volunteering to work a swing shift for two weeks, sacrificing their own schedules so that others did not have to work in the evenings or on their days off. Not only did they step into a new schedule - they also exceeded their production goals during this period!
Service

We treat our team members and customers as we ourselves would like to be treated.
Service: Rhonda

Rhonda stretched outside of her own job description to provide the Nashville team with support surrounding emergency preparation, safety, and countless other interim projects to assist the location and corporate leaders.
Excellence Through Innovation

We continually strive to be better than yesterday, both personally and as an organization.
Excellence Through Innovation: Carol

As the Editor in Chief of our quarterly newsletter, Carol found a way to improve the process and save resources! By reusing paper from recycled machines on our production floor, she decreased the cost of printing by over 80% and eliminated the use of new paper resources.
Self Discipline

There is no substitute for hard work and being disciplined in the activities that matter.
Self Discipline: Tim

Tim joined the team as a Disassembly Specialist, and through hard work and discipline was promoted into a Technician role. Tim is continuing to expand his knowledge through additional certifications that will directly benefit both himself and Dynamic!
Fun

We do not take ourselves too seriously and enjoy our time working together.
Fun: Cesar

Cesar volunteered to help a team outside of his department and brought a great attitude! He made the time fly by with his "dad jokes," stories, and overall engagement with the team.