IT Asset Disposition (ITAD)
Our ITAD services include data sanitization and destruction, refurbishment and remarketing, asset transportation, and status reporting.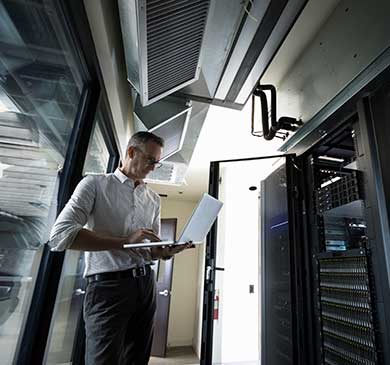 Retire Your Assets. Leave the Data Protection to Us.
Over the last 10 years, our customers have depended on us to recycle their IT equipment, keep their data safe, and manage their complex, multifaceted IT asset disposition (ITAD) needs so their companies can thrive. Our ITAD professionals are highly experienced in the nuances of designing and implementing custom disposition plans that are efficient, secure, and environmentally sustainable. We guarantee our ITAD process will meet and exceed your company's expectations for quality and security.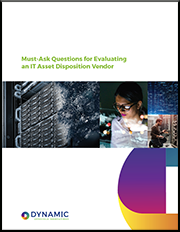 What are the critical questions to ask when evaluating ITAD providers? Find out what's right for your data security, compliance, and value recovery to determine those must-ask questions.
Experts in Value Recovery & Data Security
No matter how many facilities you manage, the volume of equipment being processed, or the complexity of your specific disposition needs, Dynamic Lifecycle Innovations is here to help you successfully manage your ITAD program.
For more than a decade, we've analyzed ITAD industry practices and refined our own internal processes to better serve our customers in the healthcare, manufacturing, finance, education, retail, government, and recycling industries as well as Fortune 1000 corporations. From point-to-point logistics and progress-tracking reports to asset decommissioning and data destruction, we have the knowledge and expertise required to help your company manage its IT asset lifecycle program from cradle-to-grave and maximize its ROI on equipment.
In addition, our rigorous security standards and procedures ensure our clients' assets and data are safe at all times, no matter what. We use the industry's best sanitization and shredding technologies, maintain full custody of materials throughout the disposition process, and hold ourselves to the highest precautionary standards. We value the security of our customers' materials, equipment, and data above all else.
OUR ITAD PROCESS & SERVICES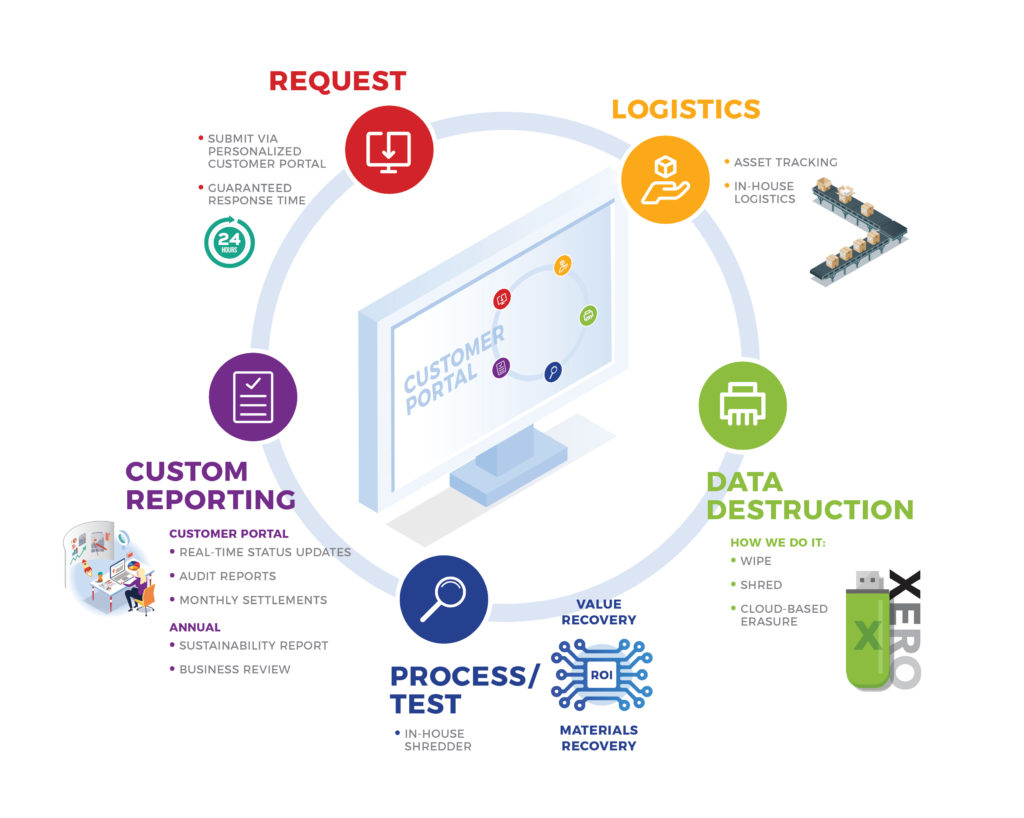 Our team of dedicated and experienced ITAD professionals takes the time to analyze, understand, and meet your company's unique ITAD needs. An account executive will work with you to design a disposition plan that accounts for logistics and transport of equipment, data sanitization and/or destruction, equipment remarketing and resale, environmentally ethical electronics recycling, and progress reporting. We offer a full spectrum of ITAD services, including:
Data sanitization, destruction, and protection
Expert Data Sanitization, Destruction, & Protection
Our industry-leading sanitization and shredding technologies ensure sensitive data remains safe and protected. Whether on-site at your company's facilities or in-house at ours, we can comprehensively wipe, shred, or destroy data from any device, including hard drives, flash drives, floppy disks, tapes, and CD-ROMs.
All data is sanitized or destroyed in accordance with:
NIST 800-88 Guidelines for Media Sanitization
Department of Defense standards (DOD 5220.22-M)
The National Association of Information Destruction (NAID) Standard of Electronic Media Sanitization Destruction.
We also adhere to strict security measures at our facilities, including:
On-site security professionals
24-hour CCTV surveillance
Access-control systems
Key-card entry
Employee background checks
Protecting your company's sensitive data is our top priority, so we maintain complete chain of custody, provide serialized tracking, and issue certificates of data destruction and recycling monthly.
IT Asset Remarketing & Value Recovery
We're well-versed in the resale of a broad range of equipment and components, including telecommunications, medical, networking, and consumer electronics. If we determine your electronic equipment can be refurbished and resold, it may qualify for our remarketing program. Reuse (rather than retiring) is always our first choice.
Dynamic has an extensive network of vendors and retailers who buy refurbished IT equipment or parts, and we also have our own e-commerce website for direct-to-consumer sales. In many cases, we're able to secure return profit on remarketed IT assets, which can yield a higher ROI on the initial purchase for your company. 
Comprehensive & Customizable Reporting
Our complete transparency and responsiveness throughout the ITAD process are what make our customers certain they can count on us to handle all their materials-lifecycle needs.
As part of our rigorous security and materials-handling processes, our sophisticated proprietary software audits, tracks, and reports on the progress of your company's assets throughout the ITAD process. Customers can access their account information 24/7 through our online portal and view real-time tracking and shipping reports. We can guarantee your company's sensitive data will be handled safely and securely, and we encourage customers to seek regular updates on the status of their equipment in the ITAD process.