IT Asset Disposition (ITAD)
Our ITAD services include data sanitization and destruction, refurbishment and remarketing, asset transportation, and status reporting.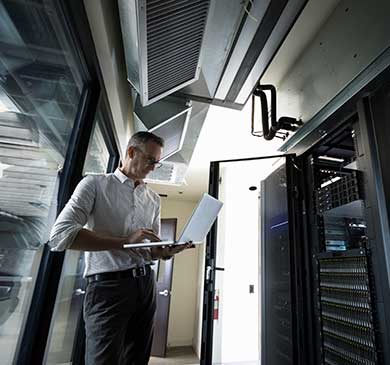 One ITAD partner. Every solution.
When it comes to IT asset disposition (ITAD), the risks are high. The process can be complex with a lot of red tape and hurdles to get over. You can be stuck with more logistics and problem-solving than you planned. And less ROI than you expected.
At Dynamic, we actually do what we say. We provide complete, world-wide services with higher ROI while mitigating risks, and ensure compliance with the highest certification standards. Delivering on all your needs with consistent reassurance and ease are how we've become the global leaders in ITAD.
Customized solutions for every challenge
We're seasoned experts who hold ourselves to the highest standards. Leading the industry with the largest global reach, we can manage the most complex, multifaceted ITAD needs. Our custom ITAD solutions are proven and trusted for their efficiency, security, and environmental sustainability.
COMPLIANCE
MEETS ALL SLAS, CONSISTENTLY

RISK MITIGATION
BRAND PROTECTION
COMPLETE DATA SECURITY

Complete chain of custody — from pick-up resale to end-of-life materials recovery
Environmental protection
Data destruction
Secure logistics
Asset tracking
Insurance coverages
Closed loop processing

EASE OF USE
STREAMLINED SERVICE DELIVERY

Automation
Customer portal
Customizable reporting
Dedicated account manager

GEOGRAPHIC REACH
ONE VENDOR FOR ALL DISPOSITION NEEDS

Service standardization, worldwide

RETURN ON INVESTMENT (ROI)
HIGHEST RETURN ON QUALIFIED ASSETS

Value recovery
E-commerce
Wholesale
Component remarketing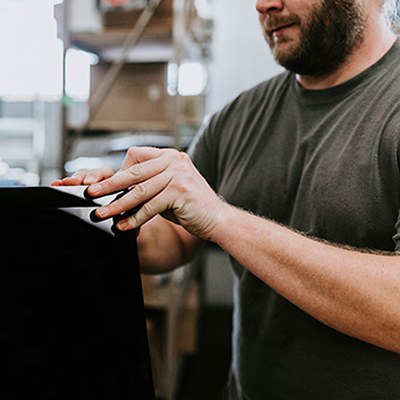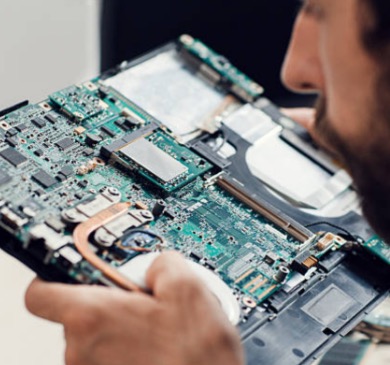 Expert Data Sanitization, Destruction, & Protection
Our industry-leading sanitization and shredding technologies ensure sensitive data remains safe and protected. Whether on-site at your company's facilities or in-house at ours, we can comprehensively wipe, shred, or destroy data from any device, including hard drives, flash drives, floppy disks, tapes, and CD-ROMs.
All data is sanitized or destroyed in accordance with:
NIST 800-88 Guidelines for Media Sanitization
Department of Defense standards (DOD 5220.22-M)
The National Association of Information Destruction (NAID) Standard of Electronic Media Sanitization Destruction
We also adhere to strict security measures at our facilities, including:
On-site security professionals
24-hour CCTV surveillance
Access-control systems
Key-card entry
Employee background checks
Protecting your company's sensitive data is our top priority, so we maintain complete chain of custody, provide serialized tracking, and issue certificates of data destruction and recycling monthly.
IT Asset Remarketing & Value Recovery
We're well-versed in the resale of a broad range of equipment and components, including telecommunications, medical, networking, and consumer electronics. If we determine your electronic equipment can be refurbished and resold, it may qualify for our remarketing program. Reuse (rather than retiring) is always our first choice.
Dynamic has an extensive network of vendors and retailers who buy refurbished IT equipment or parts, and we also have our own ecommerce website for direct-to-consumer sales. In many cases, we're able to secure return profit on remarketed IT assets, which can yield a higher ROI on the initial purchase for your company.
Comprehensive & Customizable Reporting
Our complete transparency and responsiveness throughout the ITAD process are what make our customers certain they can count on us to handle all their materials-lifecycle needs.
As part of our rigorous security and materials-handling processes, our sophisticated proprietary software audits, tracks, and reports on the progress of your company's assets throughout the ITAD process. Customers can access their account information 24/7 through our online portal and view real-time tracking and shipping reports. We can guarantee your company's sensitive data will be handled safely and securely, and we encourage customers to seek regular updates on the status of their equipment in the ITAD process.
Remote IT hardware services
Thoughtful evaluation is essential when choosing a remote IT hardware services (RITHS) partner, considering the many financial, operational, and regulatory implications. Dynamic can address the unique needs of a remote workforce with services, including:
IT asset disposition
Cloud-based remote data destruction
Logistics
Hardware redeployment
Online customer portal
Employee buy-back program
Learn more in our RITHS eBook.
VAR & MSP partnerships
Dynamic helps Value-Added Resellers (VARs) and Managed Service Providers (MSPs) round out their offerings with ITAD services. By partnering with Dynamic, our VARs and MSPs find they're able to entice new business and solidify existing relationships by helping their clients offset the cost of their replacement technology with the residual value in the retired systems.
Dynamic ITAD services can be a standalone service or it can be combined with other services, including:
Lease returns
Data migrations, cloud computing, and virtual services
Data center services (relocation and decommissioning of data centers, including corporate cleanouts and installation/deinstallation)
Hardware refresh
Support services and maintenance contracts
To learn about our customizable solutions, contact us or call 1-715-586-1468 to talk with a team member.